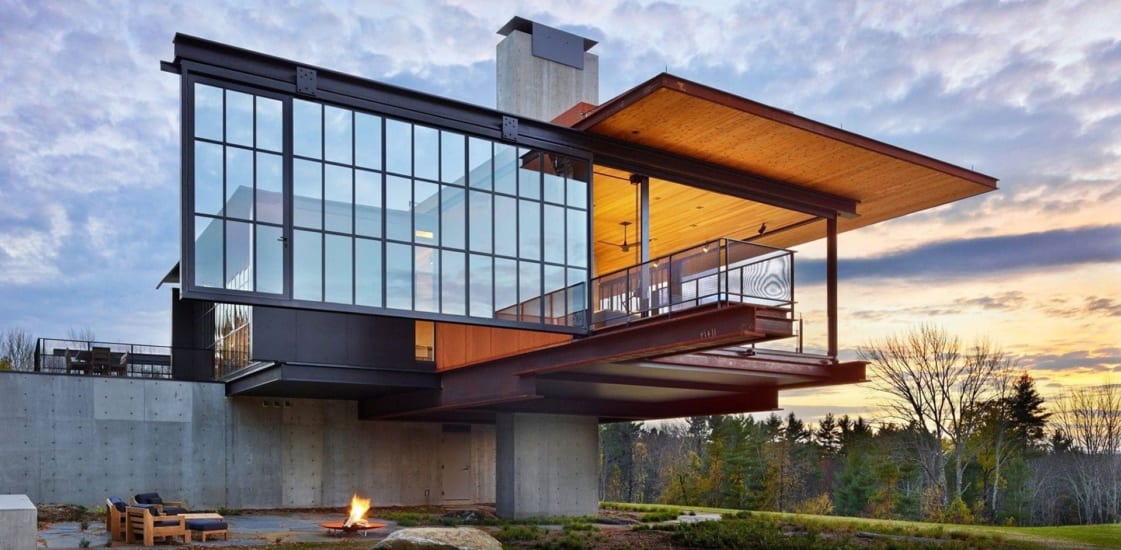 Kinetic Façades: Tactile Machines for Living
Seattle-based architectural firm Olson Kundig has recently crafted a number of unique off-grid, low-tech smart homes with transforming facades. Although seemingly unsophisticated, their façades utilize intricate systems of hinges, pulleys and bearings, devised by Phil Turner, the firm's in-house "gizmologist." These hand-operated elements bring tactile experience back to architecture, challenging people to rethink their relationship with the environment around them.
The Bigwood Residence, located at the base of the Smoky Mountains in Idaho and built with materials and solutions provided by Dynamic Architectural are highlighted in these unique structures.
"The outdoors is welcomed in at nearly every turn, with expansive modern windows and wide-swinging doors that celebrate the interior/exterior connection."
"The wings converge at a glass bridge whose entire façade can be lifted, like a garage door, blurring the boundary between inside and outside. The movement of this 23-foot-wide glass wall is made possible by a crank which causes a pivoting arm to travel along an 8-foot-long threaded rod. The weight of the glass is counterbalanced by an enormous steel tube, elevated high above the roof for all to see."
As Tom Kundig, from Olson Kundig explains, his inspiration came to him at a young age. When he was only a child, he understood that all buildings could be transformed by the people using the buildings. Therefore, along with his partner, Jim Olson, they have focused their efforts on crafting smart homes and into putting in their customer's hands the power to convert their houses from ordinary to extraordinary.
Courtesy of Architizer
https://dynamicfenestration.com/wp-content/uploads/2018/06/kinetic-facades.jpg
942
1920
Dynamic Fenestration
https://dynamicfenestration.com/wp-content/uploads/2021/05/Dynamic_logo_h_rgb_r-268x90-1.png
Dynamic Fenestration
2018-06-08 23:43:05
2022-11-30 12:59:26
Kinetic Façades: Tactile Machines for Living