Indian Creek Residence: Grace and elegance under the Texas sun
Location: Fort Worth, TX
Architect: Turner|Boaz Architecture, Dallas, Texas  |  Builder: Rick Yuill Builders, Forth Worth, Texas
With expansive views of the Shady Oaks Golf Course in the heart of Fort Worth, Texas, this residence is a graceful blend of traditional and modern design. It is both timeless and welcoming.
In an effort to embrace its environment, the building was carefully positioned on the re-excavated property to achieve an appropriate elevation so that both views and breezes could be maximized. Arranged around a series of courtyards, the fenestration of the structure embraces the open tranquility of the golf course while also allowing interior spaces to be filled with light and ventilation. Graced by shaded loggias, the courtyards present a series of cooling water gardens and pools, open fire pits and fire places, as well as enticing seating arrangements for relaxation, outdoor dining, evening cocktails and entertainment.
Principal Architect, Weldon Turner, described the inspiration for the design as coming from a visit to Pompeii where he wandered around the excavated remnants of the classical Roman villas. From this, the concept of the home was meant to facilitate movement from the outer, more public courtyards into the inner, more private family spaces, connected by colonnades of limestone columns and arches that channel breezes and residents efficiently throughout the structure.
Given the large amount of glass in the design and its place under the hot Texas sun, Weldon was careful to incorporate multiple passive cooling techniques, including substantial overhangs of the clay barrel tile roof and sufficient breezeways.
"We've been doing green architecture for over twenty years. We just didn't call it that."
Weldon Turner, Principal Architect, Turner|Boaz Architecture
The delicate hues of Texas limestone accentuate the raw textures of the exposed peg mortise and tenon beams of reclaimed Pennsylvania timber. Elegant accents are infused with custom wrought iron stair and balcony railings and hanging lanterns.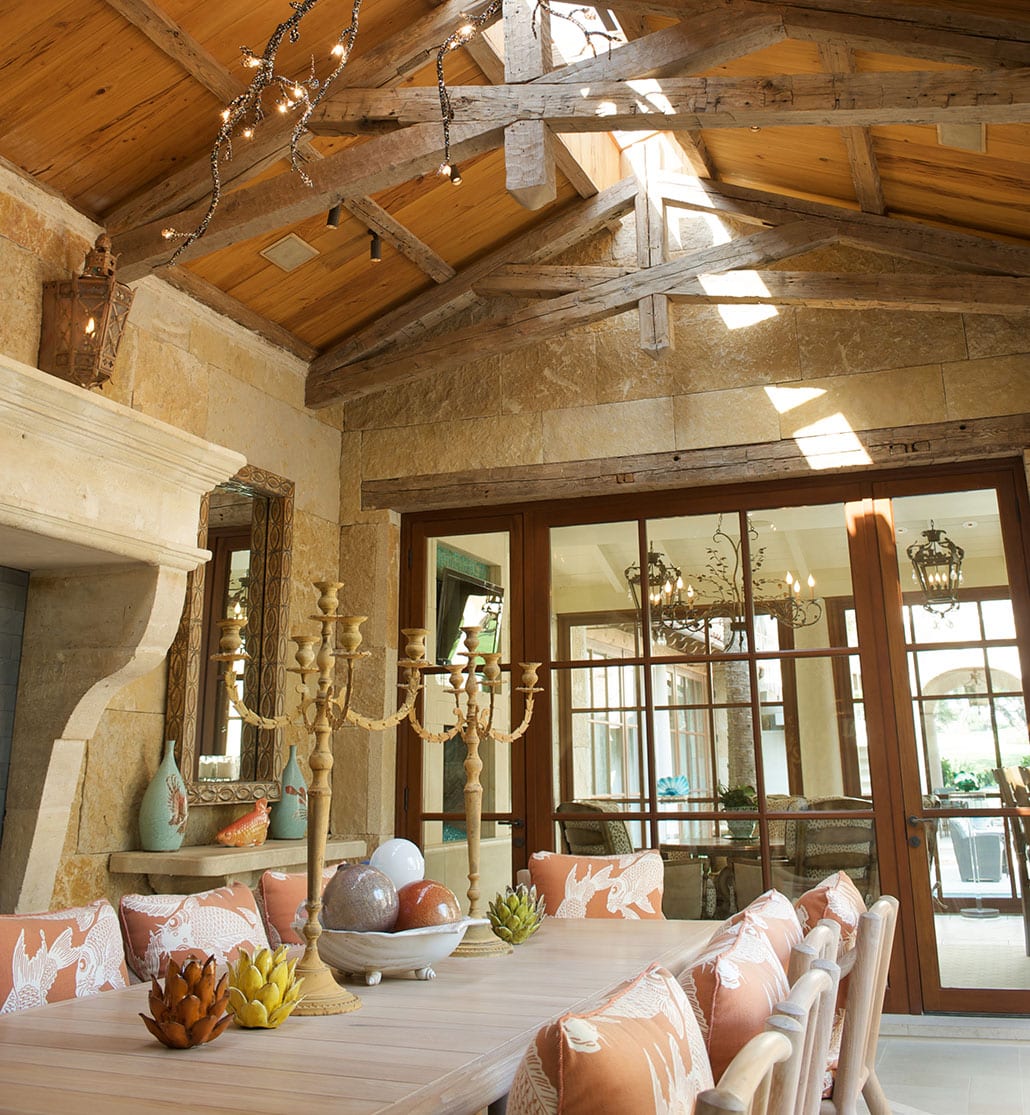 For the tailor-made fenestration, Weldon settled on stain-grade Mahogany windows and doors for the main level of the house, bringing the luxurious warmth and rich aesthetic of the wood into contrast with the cool, subdued limestone. For the upper level, the fenestration was handcrafted from Alaskan Yellow Cedar and finished with a custom paint, giving the windows prominent expression in relation to the structure.
The home is firmly rooted in the Texas vernacular with divergent elements uniting seamlessly into a unique blend of character, elegance and endurance.