Aspen Residence: Family retreat on a working ranch
This family retreat is part of an 860-acre working ranch. Local architectural traditions were reinterpreted, creating a unique collection of structures that carefully integrate into the rural site.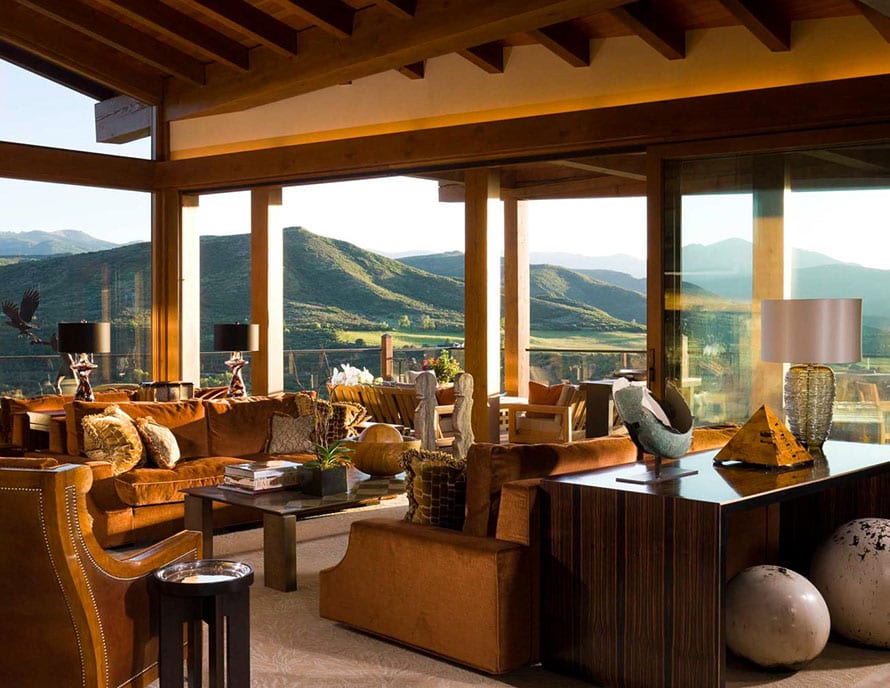 The master plan was to build a compound for the family residence with dramatic views of the Elk Mountains along with a separate equestrian and working ranch facility located within the existing pastures. A series of connected structures was loosely organized around a central courtyard, reminiscent of regional historic ranch compounds. A bridge wing, which houses an office, was meant to create an impressive gateway into the compound. Framing the entry through the bridge are intensive rock walls, landscaping and cascading water. Outdoor living was emphasized with various informal gathering areas centered around a swimming pool, fireplaces and outdoor kitchen, all designed to feel like a resort retreat.
A simple pallet of materials was utilized, including stone, two types of wood siding, and patina-finished copper roofing with varying profiles. A more rustic barn wood siding provides contrast, emphasizing the additive nature of the various connected building forms. The post and beam structure is more refined as well, with massive tapered columns and braces resembling stately trees. Large expanses of glass simply frame the timber structures.
The entry staircase rises dramatically within these columns. Interior stair railings and guardrails have a branch-like feel as well. Exterior materials of wood and stone were utilized to bring the richness of the outside into the interior.
For the windows and doors to complement the architectural language, we were tasked with creating a custom factory stain finish with a low luster topcoat—the fenestration didn't want to read as shiny and new. The architect specified custom cast brass hardware accents with a rustic, textured finish to further enhance the sense of age and enduring beauty.