Noroton Harbor Residence: Shingle style home with harbor view
This Shingle style house recalls the relaxed and gracious sentiment of early 20th century seaside life. According to architect McKee (Mac) Patterson, the design is timeless, generous, but deliberately understated.
Porches grace the front and side entrance. Two second-floor porches call for lounging. Built-ins and window seats encourage reading and gazing out at the water, where boating activities abound for most of the year. Indoor and outdoor spaces draw family members and friends together in informal, friendly groupings. Round and oval ornamental windows grace the home's front façade.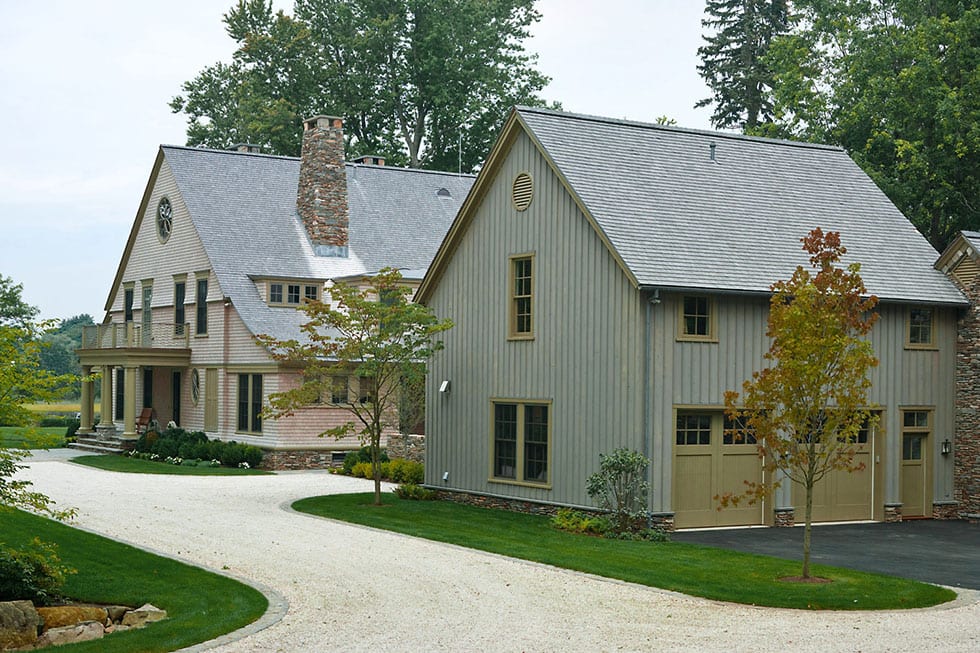 The property itself forms a large L on a potentially awkward corner site. However, Patterson utilized the prominence of the location and its sustainability concerns to dictate the concept of a series of buildings instead of one large residence. The main house is 5,900 square feet with two adjoining outbuildings: the pool/guest house (730 square feet) and the garage with playroom above (900 square feet). Though the neighborhood could have justified a large imposing residence, Patterson chose to divide the program, placing the property in a historical vernacular of farmhouse with barn and outbuildings. The outbuildings along the side street allow for private poolside and garden site interiors, buffered from the street. Divided guest and entertaining spaces require HVAC only when needed, producing, along with other construction elements used, an environmentally conscious site. "We worked on keeping the major trees and shoehorned the house in," noted Patterson.
Materials and detailing on the exterior and interior also take their cue from the early 20th century, approaching these traditions with an openness that creates a vibrant design aesthetic. A driveway of crushed seashells leads to the main entrance of Alaskan Yellow Cedar shingle with a thin-stone base. This use of stone is carried through in the stonewalls that create outdoor spaces between the garage and main house, the pool area and the guesthouse. The thin stone's delicate demeanor allows other textures, such as the board and batten garage façade, the shingles themselves and metal porch railings, to shine equally. The stone defines the outdoor terrace, complete with an extensive barbeque area and large stone fireplace.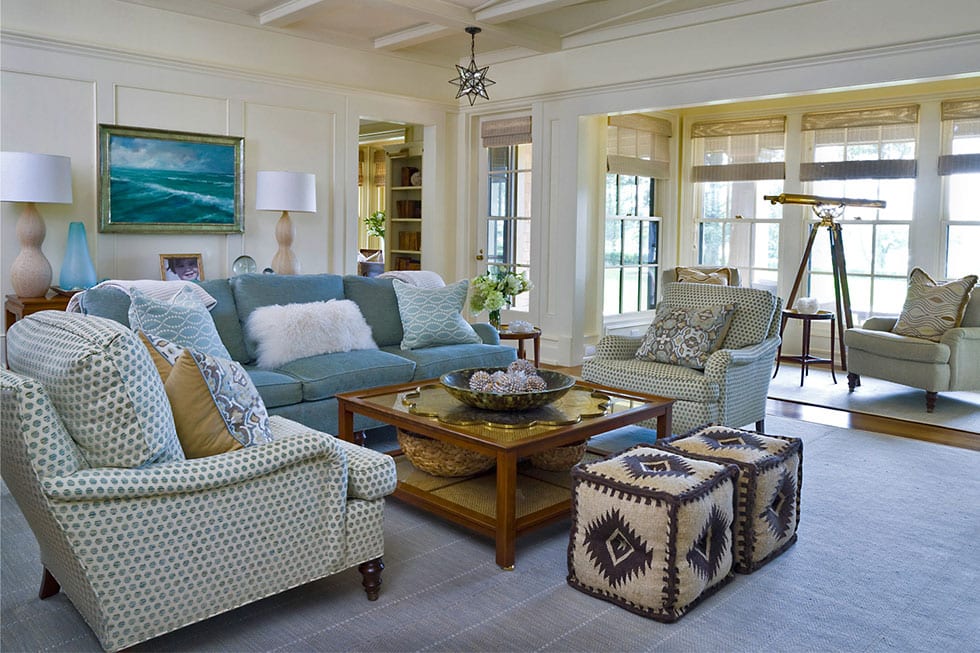 The interior meets the homeowner's request for both formal and informal spaces.
"There is a purposeful progression of textures from formal to informal,"
Patterson noted. The paneled foyer, library, office and dining room with painted coffered ceiling are the formal rooms, while the living room with its mahogany bar, rustic thin-stone fireplace and more detailed ceiling makes the transition to the house's more informal spaces. The kitchen and breakfast areas feature exposed wooden beams, unpainted American clay walls, and broad-painted wooden wainscoting. It is more rustic than the rest of the house and takes full advantage of the water views framed by carefully oriented fenestration.
Media: Article in New England Home.