Santa Lucia Preserve Residence: Five pavilions on the rolling hills
This hillside inspiration is carefully tucked away in the rolling hills of the Santa Lucia Preserve, just outside of Carmel, California. This unique transitional contemporary residence is designed by Stuart Silk Architects of Seattle, Washington and built by Carmel Builders and Company.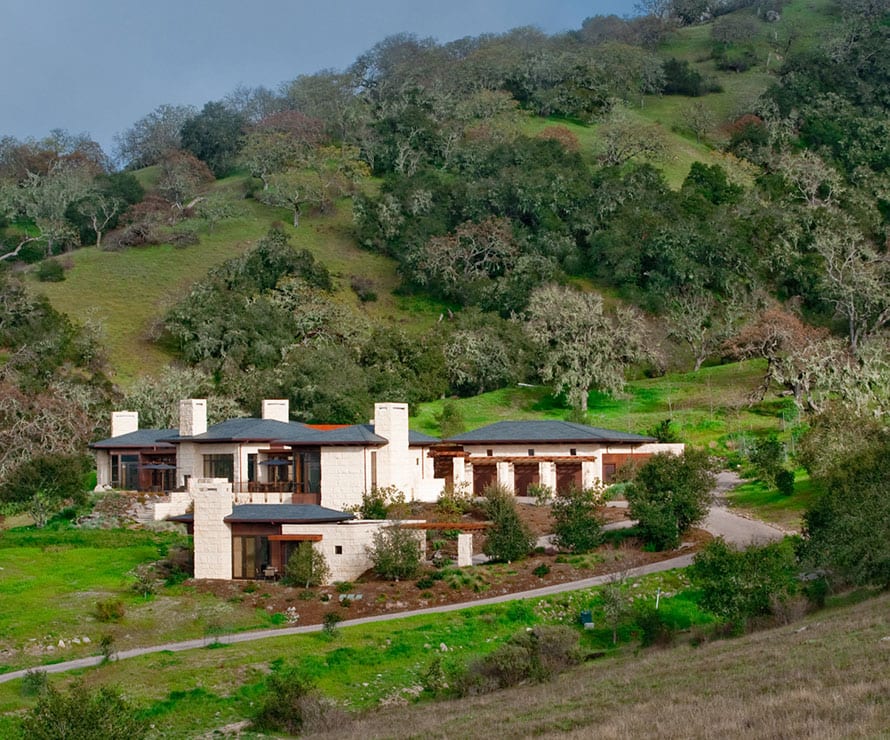 Inspired by the distinctive and moving landscape, the design of the home is conceived as a string of five pavilions, each rotated on a different angle in response to the curving contours of the land. Each pavilion has its own unique outlook over the scenery. For example, the living room is focused on Pinyon Peak, which is an important geographical landmark. Other rooms capture other angles. The gallery, which runs in a crescent shape the entire length of the home, connects the pavilions.
By following the contour of the land, disturbance to the site was minimized, preserving the natural landscape. Also, in deference to the land, each pavilion was limited in height, allowing the living and family rooms to be the tallest volumes at fourteen feet and other volumes to flow up and down in an undulating pattern, mirroring the surrounding hills. The low-sloping roofs and deep overhanging eaves have the effect of further integrating the home with the site.
To insure timeless and durable architectural expression, stone cladding was selected, in combination with rusted Corten steel panels. The windows are bronze clad mahogany, and the roof is slate. The tones of the wheat-colored limestone, burnt-Siena-colored steel panels, bronze windows, and earth-toned slate roof—all-natural materials—merge together in a pallet that is decidedly sympathetic with the unique characteristics of the location.
Eaves, trellises, panels, ceilings, beams, and an unusual entrance to the home all provided opportunities to create details that supported the special vision of this finely crafted home. Two of the most unusual elements are the rusted metal eaves and the lozenge shape of the rusted metal clad entrance pavilion. The first is a unique detail and the other a unique space that marks the arrival point for the home.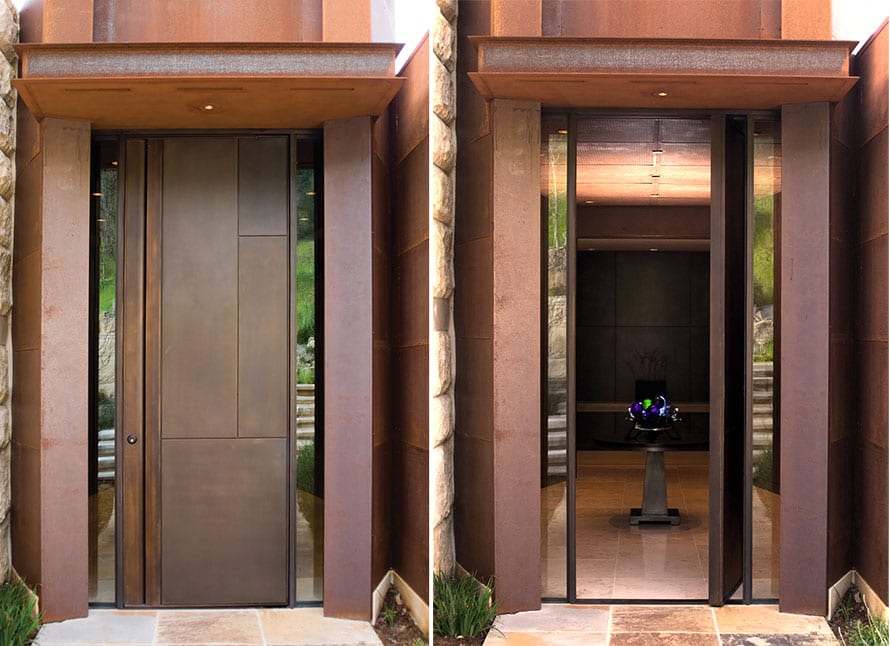 Multiple ceiling heights and unique ceiling designs support the home's overall contemporary sensibility without leaving cold emotionless spaces. To avoid the aloofness of modernism, architectural spaces were supplemented with a layer of rich expressive detailing. The resulting spatial richness allows the residents to form strong bonds to their personal spaces.
Floor to ceiling glazing and butt-glazed corner windows provide ample panoramic views of the distinctive and changeable landscape. Light is introduced from multiple directions to avoid dark areas in the home, except in the entry pavilion, which was conceived without any natural light. It is entirely hermetic, with no windows to the outdoors. Lined with rusted Corten panels, it is intended to provide a calming place for guests to meet, undistracted by the beauty of the natural surroundings.