Stonehedge Farmhouse: New England manor in cedar and stone
Location: Eastern MA
Architect: Catalano Architects, Boston, MA  |  Builder: Rigoli & Company, Waltham, MA
This grand farmhouse in Eastern Massachusetts is located on 11 acres of open agricultural land with expansive views of fields and paddocks. The design is inspired by the rich tradition of the New England agrarian architecture of the nineteenth and early twentieth century. A rambling approach to the massing breaks down the overall scale of the house nicely and allows it to sit comfortably in its rural landscape.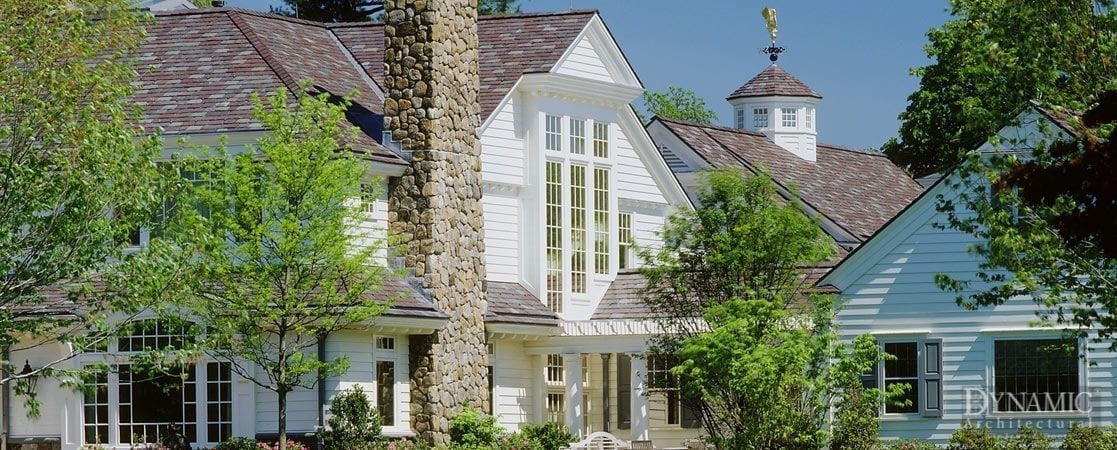 The layout of the first floor affords each of the major rooms with a view of the paddocks, thus taking full advantage of the southern exposure. Picturesque massing is used to downplay the size of the house, making it appear smaller than its actual size upon entry from the street.
A tree-lined motor court greets visitors and leads their eyes to the exterior of the structure, which is clad in materials of the local architectural vocabulary of New England, including New England fieldstone, red cedar clapboards with eight-inch exposure, Vermont slate roof, and New England bluestone.
The formal spaces, which are designed around the client's philanthropic entertaining, are entered from a double height reception hall, which includes a corner fireplace. The main stair opens onto the hall and features a sitting area at the oversized landing with a stone tower window. A second-floor gallery and walkway overlook the reception hall and are lit by a light well that brings sunlight into the north side of the house through leaded glass lay lights designed by the architect.
Each of the rooms is designed with details inspired by the period, reflecting the architecture of the whole house. The living room is sunken down from the adjacent reception hall and has both an office and a sunroom connected at the outside corners which are expressed as small pavilions with windows on three sides. In the opposite direction, an enfilade leads one through the family entry, kitchen, and breakfast room and culminates with a view to the scenic red barn in the distance.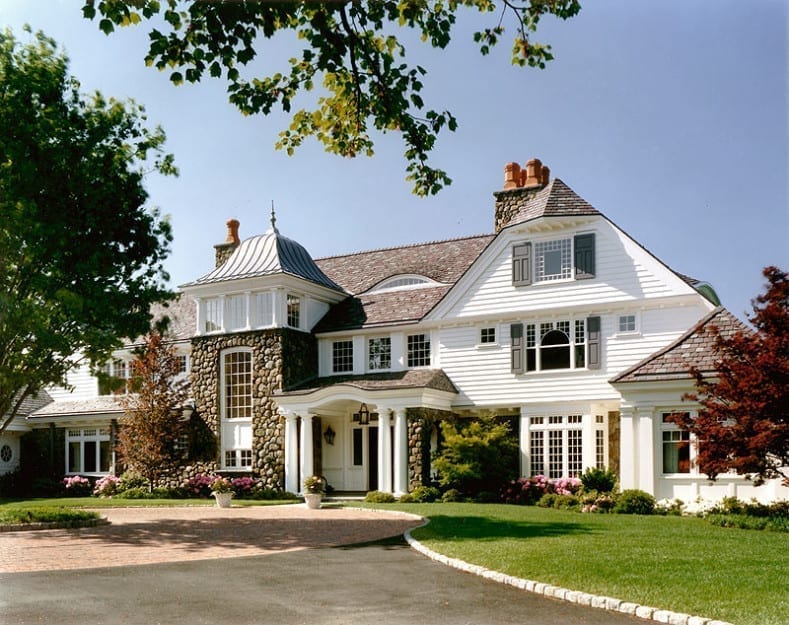 The second-floor master suite occupies the southwest corner of the floor and provides the owner with a view of the animals as they graze in fields at the rear of the house. The master bathtub is situated in front of a bell-curved window arrangement that perfectly frames a view of the barn. There is a private second-floor deck off the master suite where the owners can take in both sunrise and sunset.
The fenestration is fabricated from painted Alaskan Yellow cedar, which is a very durable, tight-grained wood that offers a smooth surface once sanded and finished. The density of the timber allows it to hold very crisp machining details so that subtle reveals and composition can be embraced and enhanced.
Taken as a whole, the house offers a multitude of well-considered views that serve to establish a rooted connection to the surrounding landscape.