Martis Camp Residence: Mountain retreat blurs traditional and modern
Nestled in the forest northwest of Lake Tahoe, this character home features sleek rooflines and amazing views of the Northstar Ski Slopes. The mountain scenery was the dominant feature around which the home was designed. Great care was taken by the architect to not only site the building but also each room, so that the homeowner's initial request—to capture and celebrate that view—could be granted. The integration of elegant window walls made this vision a reality.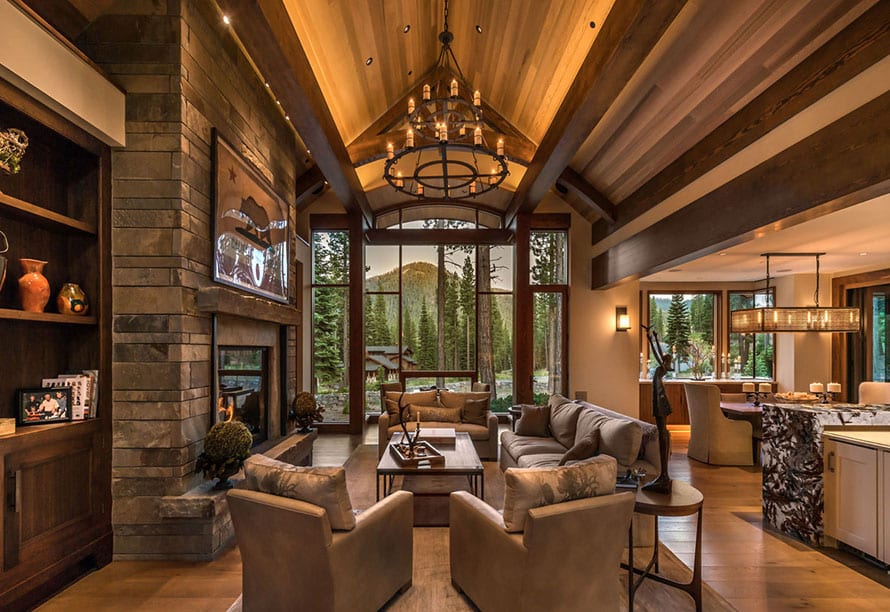 The exquisitely landscaped property includes a stream that travels under the bridged walkway. Indoor and outdoor living is perfectly balanced with a lift and slide door system that provides easy access from the great room onto a generous private patio. The steel accents throughout the house are balanced by beautiful woodwork.
This 4000-square-foot home utilizes a palette of stone, metal, and clear cedar throughout. However, these traditional materials are joined together in ways that are decidedly contemporary, with unique features such as horizontally cut sandstone, copper shingles, and an artful mix of primary pitched roofs and curved accent roofs.
The location and design of the home required a window package that delivered precision and beauty at the same level of its overall architecture. The architects chose narrow profile, walnut–trimmed modern windows that communicate both warmth and elegance.
Wood Pivot Door provides a Grand Entry
A massive 600-pound walnut pivot door—seven feet wide, ten-and-a-half feet tall and almost three inches thick—is adorned with custom-forged bronze hardware that opens with the push of a finger to the great room's expansive view of the mountains.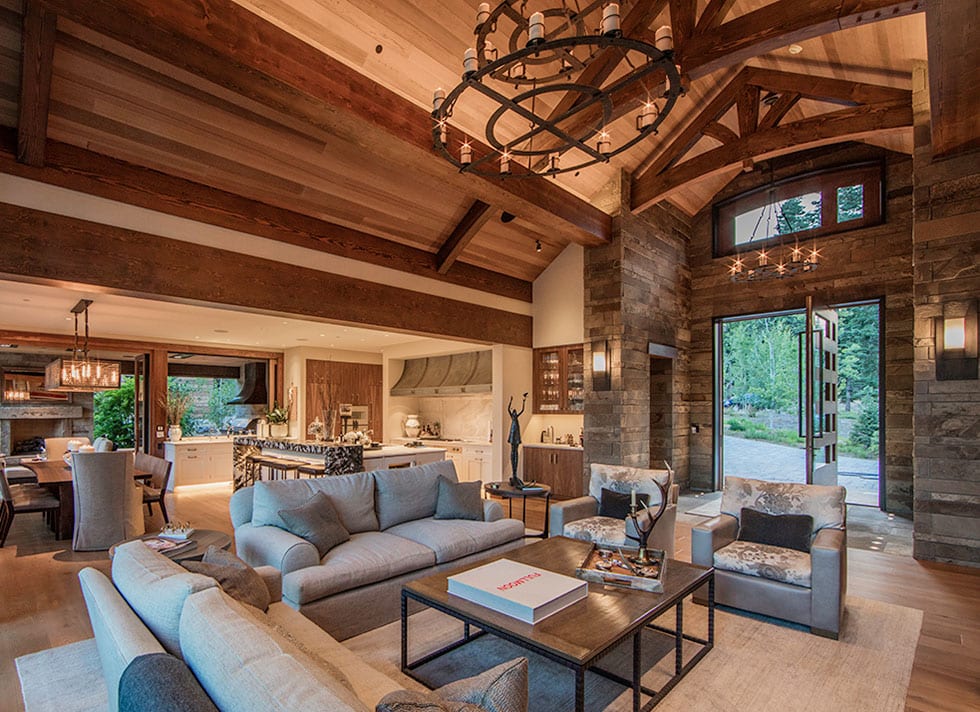 Inside, a large sliding window opens from the kitchen to the covered deck to facilitate an easy passing of food to the unique indoor-outdoor space.
Another standout interior feature is a three-story floating staircase, leading from a ground-floor mudroom to the main floor to upstairs. The oak tread stairs float upward, anchored in place by custom steel stringers. The guardrail is a single sheet of clear glass, which amplifies the natural light let in through a massive custom corner window.
"Dynamic was chosen for its reputation for high quality, handcrafted products and its ability to construct very large openings, with minimal frame thickness. It is also one of the few companies willing to build insulated, butted corner glazing. These features all were critical components of the project as the windows, shape, size and configuration were a major part of the concept from day one."
Keith Kelly, Principal Architect, Kelly-Stone Architects